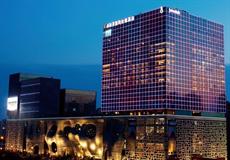 Jumeirah Group will open its first hotel in China today, tapping into the burgeoning hospitality industry of the world's second-largest economy.
The new 401-room Jumeirah Himalayas Hotel Shanghai in Pudong used the interior designers behind the Burj Al Arab, and is themed on "ancient Chinese elements of feng shui".
The luxury hospitality group had originally planned to open a separate hotel in the city, in a twin-tower development, as part of a management agreement signed five years ago. But that agreement was scrapped after a change in the building's ownership.
"We decided to exit," said Gerald Lawless, the executive chairman of Jumeirah Group, which is part of Dubai Holding and manages hotels including the Burj Al Arab.
"It will happen but not in our brand. We have chosen to go to another property."
China is a market Jumeirah Group has increasingly focused on recently. It has five other luxury properties under … Read the rest