Barbados boutique: a host of heavenly hotels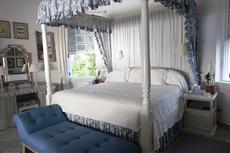 Chic retreats offering the very best in fine dining, island activities and personal pampering: Barbados is famed for its exclusive boutique hotels and luxury resorts.
As soon as you walk through the portals of Cobblers Cove Hotel Saint Peter (Barbados), you step into an oasis of tranquillity.
A red tile path winds across a rich green lawn that is adorned with stunning plants and trees; waves break on the rocks in front of the hotel's sun-drenched terrace. From this vantage point, you're treated to a 180-degree vista of the palm-fringed beach and the azure waters of the Caribbean Sea.
Cobblers Cove Hotel Saint Peter (Barbados) is one of a clutch of small, deluxe hotels in Barbados, each offering an intimate and individual approach.
A member of Relais & Châteaux, the exclusive fellowship of luxurious hotels and gourmet restaurants, the cuisine at Cobblers Cove Hotel Saint Peter (Barbados) is based on international fare with a Barbadian twist.
Executive chef Michael Harrison says: "We have our very own resident fisherman. Whatever he brings in becomes the fish of the day, fresh from the sea to the plate."
Another gastronomic highlight is the tradition of high tea served each afternoon.
The hotel's water sports centre offers guests the chance to go snorkelling, sailing, waterskiing, kayaking and windsurfing. All of these are complimentary and the reef beneath the sea in front of Cobblers Cove Hotel Saint Peter (Barbados) is host to a multitude of marine life. There's also a gym, health spa and a tennis court to keep those fitness levels up.
The hotel offers a tailor-made Heritage Tour in recognition of Barbados's newly awarded Unesco status. This includes exploring the Garrison Quarter in Bridgetown by foot and visits to plantation houses not usually open to the public.
Also on the popular west coast is The House, a chic, adults-only resort with 34 suites that are a mere stroll away from the famous Daphne's restaurant, which, like The House, is owned by Elegant Hotels.
Close by is Treasure Beach. Recently voted Caribbean Hotel of the Year by Caribbean World magazine, this romantic hideaway offers 35 suites, a lovely spa and delicious cuisine.
Heading north, Little Good Harbour is close to the exclusive Port St Charles marina and has very private, cottage-style accommodation and suites in part of the old fort. Its sister hotel, Atlantis, is on the east coast near the fishing village of Tent Bay, with just 10 rooms and apartments set in a restored 19th-century colonial building.
One of the most remote properties on the island is the new, self-catering Santosha, in the Scotland District, overlooking Barbados's longest beach. Lots of activities and in-room spa treatments can be arranged by the concierge.
An unusual small hotel is Island Inn, close to the Garrison, where an old rum store used by the English Regiment has been converted into charming, all-inclusive accommodation.
And, for something new, Harlequin Hotels, which already operates the Merricks Resort on Barbados, opens the boutique H Barbados this year on Hastings Beach in the south, complete with tempting steak and seafood restaurant.
Tags: Barbados Hotels, Saint Peter Barbados Hotels