Happy Hotel Holidays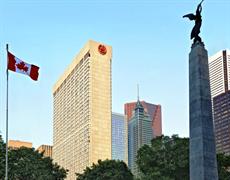 Sheraton Centre Toronto Hotel is offering an easy way to enjoy all the fun of the season while staying safe.
The Sheraton Centre Toronto Hotel offers an easy post-party commute so you can trade your car keys for room keys and simply take the elevator home.
A special rate is available through the holiday season on Friday and Saturday night stays from Nov. 17 to Dec. 30.
"The holidays are a busy time of year with lots of entertaining across Toronto," said Tony Dunn, the hotel's general manager. "Whether in the city visiting friends and family or with colleagues at the office holiday party, Sheraton Centre Toronto Hotel offers a safe and responsible way to enjoy all that the festive season has to offer."
W brand keeps expanding
Starwood Hotels and Resorts will open W. Jakarta in 2015, making the debut of W Hotels worldwide in Jakarta and its second hotel in Indonesia after opening W Retreat and Spa Bali-Seminyak earlier this year.
Ring in the New Year in Michigan
Looking for a family place to party on New Year's Eve?
If so, look no further than the Best Western Sterling Inn Banquet and Conference Centre in nearby Michigan.
The hotel's Susan Bullotta is rolling out the red carpet and inviting her Canadian neighbours to celebrate 2012 at the facility.
Bullotta is planning a New Year's Eve Splash Bash and Family Fun Fest at the hotel, which features a huge indoor water park.
The hotel is located on Van Dyke Avenue in Sterling Heights, an hour's drive from the ferry crossing between Walpole Island and Algonac, Mich.
The 32,000-square-foot indoor water park features a 5,000-square-foot zero entry swimming pool, waterslides, lazy river vortex, interactive splash play park, two large whirlpools, steam rooms, indoor running track and video game arcade.
Family-oriented activities on New Year's Eve begin at 7 p.m. with the magic of master illusionist Bret Beaudry. There will be clowns, a gamefest video game party, a bounce house in the lobby and a countdown to midnight.
The cost is $199 for a queen or king bed or $224.99 for two queen size beds. Rates are based on a maximum of four guests per room.
For more information call 1-586-979-1400 or visit www.sterlinginn.com.
Tags: Best Western, Best Western hotel, Starwood Hotels & Resorts International, Starwood Hotels and Resorts, The Sheraton Centre Toronto, Tony Dunn, Toronto Hotels, W brand, W. Jakarta