West End Coast Hotel won't switch to residential until after 2017, owners say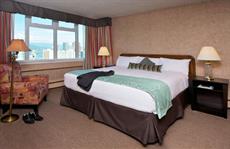 While the Coast Plaza Hotel & Suites has won rezoning approval from Vancouver city council to become a rental property with office space, the 269-room property said it will remain open as an operating hotel "until at least 2017."
In a statement issued Thursday after council unanimously approved the application from Brook and Associates, Coast Hotels and Resorts said the rezoning will not take effect until the expiry of the lease agreement between the building owners and Coast Hotels sometime after 2017.
As part of the lease agreement, the owners of the property at Comox and Denman in the city's West End have invested $6 million for building renovations that included installing 600 energy-efficient double-paned windows and upgrading the hotel's roof and facade.
Coast Plaza Hotel & Suites has invested an additional $3 million in room upgrades and a renovation of the hotel's 4,500-square foot ballroom.
Tags: Brook and Associates, Coast Plaza Hotel and Suites, Comox and Denman, Hotel Renovation, Vancouver hotels