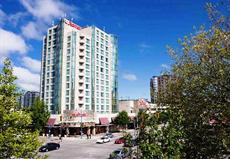 Restaurant Supports Sustainable Seafood Options
Setting the standard among elite Vancouver restaurants, The American Grille at the Vancouver Airport Marriott has become "Ocean Wise" and is working diligently to provide its guests with sustainably harvested seafood choices.
The "Ocean Wise" program is aimed at raising consumer awareness of sustainable seafood options by providing a credible source of information on sustainable seafood for both restaurants and consumers. The group works with partners to ensure restaurants, such as The American Grille, are able to identify and provide quality sustainably harvested seafood choices to their customers. This helps to ensure that wildlife stocks remain plentiful so that diners can continue to enjoy their favorite fresh-seafood dishes for years to come.
"Being one of the top restaurants in Richmond requires my menu to have the highest quality, freshest ingredients," said Executive Chef Shane Lamb. "We chose Ocean Wise because of its sustainability practices and … Read the rest