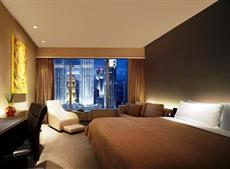 Traders Hotel Kuala Lumpur may be best known for the Sky Bar with its swimming pool and breathtaking view but the hotel itself is no afterthought.
MENTION Traders Hotel Kuala Lumpur, and most people will exclaim: "Oh, SkyBar!"
This is only to be expected because the hotel's bar on the 33rd floor offers amazing views of the city's skyline, especially the famous Petronas Twin Towers. Regulars used to the vista still ooh and aah, never mind "virgins" to the place.
Of course, the Sky Bar's drinks menu will also get you nicely into the groove, aided by the tapas menu. The music can be sublime at its best and the pool that is the centrepiece of the place gives the bar extra oomph.
Thanks to the inventiveness of Traders communication manager Theresa Goh and her team, there's always an event or promotion at the Skybar to spice things up even … Read the rest