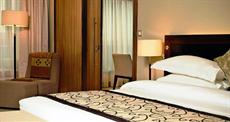 The world over, the pride of any city that has waterways is the aesthetical use of the waterfronts to promote its hospitality industry. One of the hotels that have met this demand is the Radisson Blu Anchorage Hotel Lagos.
Recently opened with a statement of style, luxury and the-state-of-the-art facilities, Radisson Blu Anchorage Hotel Lagos located at Ozumba Mbadiwe Avenue, Victoria Island, Lagos, boasts of the best service and standard any world-class hotel offers.
Adding a total of 170 rooms and suites to the number of hotel accommodation in Lagos State, the hotel edifice is decorated in two original styles, with some of the rooms availing guests of the panoramic view of the Lagos Lagoon on one side and the city view on the other.
Fitted with guest-friendly facilities, each room is stocked with a temperature control sensor, mini-bar and free high speed internet access.
Coming with a premier service to the hospitality industry, … Read the rest