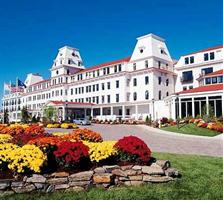 If you can't prevent mud season, you might as well embrace it.
So says Wentworth by the Sea A Marriott Hotel & Spa: The grand coastal New Hampshire resort is celebrating that time of year when winter finally loosens its grip on the region and spring rains create a messy, thick soup in our yards and driveways.
The Wentworth has put together a Mud Season Spa Package to lure visitors out of their winter hibernation. It's a regenerative, relaxing experience created with a typically New England sense of humor. For $249 a night, the Mud Season Package begins as guests drive up to the crimson-topped structure. Identifiable by its trio of Victorian towers, the 127-year-old hotel in New Castle spreads out dramatically, emanating an almost tangible old New England presence.
Guests are welcomed with a made-on-site, appropriately themed molten chocolate cake. Post-cake, visitors are ushered to their deluxe accommodations included in the package (deluxe meaning a … Read the rest