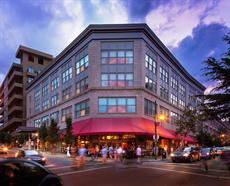 Maybe the recession really is over.
The Haywood Park Hotel, one of Asheville's more prominent hotels and a cornerstone of the mid-1980s downtown renaissance, is getting a new restaurant and has seen a bump in retail leasing on its interior atrium space.
Owner Tony Fraga, who bought the Haywood Park property in June 2007 for $18.5 million and initially had plans to erect two new skyscrapers nearby, said he's optimistic about the future.
"(The economy) can improve, but it's like everything else — we're slowly gaining our way out of the recession," Fraga said. "The hotel is doing a lot better than it was last year, but not as good as it was in 2007."
Nearly all the retail space in the property is leased, except for a couple of spots in the hotel atrium, including one where Souper Sandwich closed in 2007 after a 13-year run. The Haywood Park … Read the rest