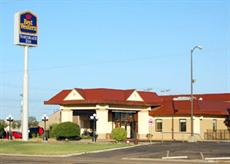 Hotel in Pampa, TX partners with Worldwide Revenue Solutions to launch website and Internet presence.
Best Western Northgate Inn Pampa recently launched a full-featured independent website. The hotel in Pampa, Texas is owned and operated by Baywood Hotels (Baywood), an award-winning hotel management company based in Maryland.
Baywood contracted hotel Internet marketing agency Worldwide Revenue Solutions (WRS) for web design, web optimization and marketing. The Best Western Northgate Inn is the latest in a growing portfolio of Baywood hotels optimized by WRS.
The new website positions the Best Western as the perfect Pampa, TX hotel for business travelers and visiting oil contractors. The hotel delivers all the amenities the traveling worker needs: free high-speed Internet, free hot breakfast, free parking for full-size trucks, 24-hour business center and an outdoor swimming pool.
Beau Athia, Corporate Director of eCommerce for Baywood, looks to capture more of the target market:
"In a smaller market like … Read the rest