Jumeirah opens hotel in China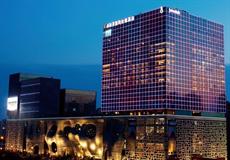 Jumeirah Group will open its first hotel in China today, tapping into the burgeoning hospitality industry of the world's second-largest economy.
The new 401-room Jumeirah Himalayas Hotel Shanghai in Pudong used the interior designers behind the Burj Al Arab, and is themed on "ancient Chinese elements of feng shui".
The luxury hospitality group had originally planned to open a separate hotel in the city, in a twin-tower development, as part of a management agreement signed five years ago. But that agreement was scrapped after a change in the building's ownership.
"We decided to exit," said Gerald Lawless, the executive chairman of Jumeirah Group, which is part of Dubai Holding and manages hotels including the Burj Al Arab.
"It will happen but not in our brand. We have chosen to go to another property."
China is a market Jumeirah Group has increasingly focused on recently. It has five other luxury properties under development in locations including Guangzhou, Macau and Hangzhou.
The property in Shanghai was originally planned to open under the new Venu brand but Mr Lawless said the owners had decided to "upgrade" the hotel to the Jumeirah label.
China has also become increasingly important as a source country for guests to Jumeirah's hotels in Dubai. Chinese guests last year made up 2.4 per cent of its customers, while so far this year they account for 4.9 per cent, Mr Lawless said.
"During Chinese New Year this year we were looking at almost 80 per cent occupancy from China alone within the Burj Al Arab," he said.
Many of the operator's planned hotels worldwide have been delayed by developers because of the global downturn.
The Shanghai property is the first overseas hotel the group has launched in several years.
But the group hopes to open eight hotels this year, including properties in Frankfurt and Azerbaijan, doubling the number of rooms it operates. Jumeirah's Abu Dhabi hotel is expected to open before September, Mr Lawless said.
The group plans to have a total of 60 hotel management agreements in place for properties that are either open or under development by next year.
It has 11 hotels open, including the Shanghai hotel.
Jumeirah in January confirmed it had cut jobs across "group and corporate positions".
It also lost two management agreements in Dubai. The group had been running the Meydan hotel at the multibillion-dollar racecourse of the same name, and the luxurious Bab Al Shams desert resort. These were taken over by the developer Meydan.
But Jumeirah gained another property, recently opening the Zabeel Saray hotel on the Palm Jumeirah. The group said it had no plans for an initial public offering. "We are very happy to be privately owned as we are," Mr Lawless said.
Tags: Dubai Holding, Jumeirah Group, Jumeirah Himalayas Hotel Shanghai, Shanghai hotels