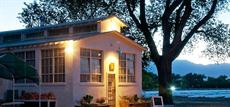 Historic Inn Property in Los Ranchos de Albuquerque, New Mexico Wins International Recognition, Acclaim for "Local Flavor" Experience.
Among the most experienced and discerning international travelers, they say it's the little things that count the most when it comes to accommodations.
For some that could translate into massive reception areas, 24-hour concierge service and liveried valet parking but for the nearly 1,000 hyper-critical and seasoned travelers who took part in voting for the 2011 Fodor's Top 100 Hotels in the World, it had more to do with organic produce grown mere yards from the kitchen, the intoxicating scent of freshly distilled lavender oil and even the antics of a goat named Periwinkle.
Los Poblanos Inn is pleased to announce its having been named one of "Fodor's 100 Hotels," for 2011, a designation given to the top 100 "best in category" hotels in the world. Los Poblanos was the only New … Read the rest