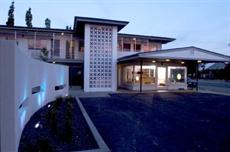 Once a year, a former Travelodge budget hotel checks out all of its guests so it can check in artists.
The boutique Modern Hotel Boise, Idaho's Linen District turns into a bustling art gallery on the first Thursday each May, the Idaho Statesman reports. In just four years, the event grown into one of the city's most popular events.
The owners open the "rooms, courtyard, hallways, balconies, nooks and crannies to visual artists, dancers, musicians, designers and anyone with a cool idea," the paper says.
This year, the Modern Hotel Boise hosted some hotel-specific exhibits such as Sean Aucutt's and Bob Neal's suitcase sculpture installation and Elizabeth Hilton's "Turf Bed."
The event started as a grass-roots way to bring artists and the community together and also as a way to give the hotel some buzz, hotel owner Elizabeth Tullis told the paper. With little effort, 1,000 people showed up the … Read the rest