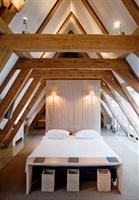 Continuing our series on the world's hippest hotels and the stars who frequent them, Sarah Turner checks out The Dylan in Amsterdam.
Star quality: Mariah Carey, Robbie Williams, Kate Moss, George Clooney, Brad Pitt, Justin Timberlake, Annie Lennox, Paris Hilton.
Vital statistics: A building that has had more image changes than Lady Gaga. In the 18th century, when it was Amsterdam's first theatre, the composer Vivaldi once conducted his orchestra here.
Some 100 years later, the building became an orphanage and soup kitchen run by the Catholic Church. In 1998 the church decided to let a more luxurious form of hospitality take over.
Long, labyrinthine corridors hint at austerity, but lead into a series of minimally luxurious rooms, seemingly designed to cover all the design requests of picky celebrities. The hotel is named after the Welsh writer Dylan Thomas and there is also a suite in his honour which … Read the rest