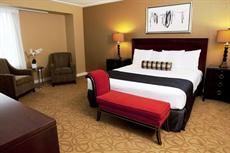 Not only is the newly opened hotel at the Sands Casino Resort Bethlehem viewed as a "game changer" for the casino itself, but officials said it also marks the next step in the evolution of the Lehigh Valley.
Bethlehem Mayor John Callahan was among the invited guests asked to speak at the grand opening ceremony Thursday at the hotel's Foundry Meeting Room. He said he was "proud to be here to mark a really big and significant milestone for this community."
The Sands Casino Resort Bethlehem was built on the site of the once iconic Bethlehem Steel plant, which later became the largest brownfield site in the nation.
Gregory Fajt, the chairman of the Pennsylvania Gaming Control Board, said those brownfields have "been turned into a goldmine." And not just for the casino or municipalities, school board and the state which share in the taxes generated by gaming.
Mike Stershic, the president … Read the rest