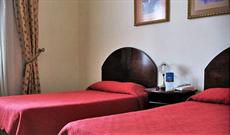 To mark the 50th anniversary of Ernest Hemingway's death, Hotel Ambos Mundos is offering a tour of a room where the American writer spent the first months of his 21 years in Cuba, says a report by AFP.
"In America, Hemingway is known through his books, through libraries and museums, but in Cuba there is an oral tradition about his life. He belongs to the Cuban scene. To understand him, you have to come to Havana," Jenny Phillips, the granddaughter of Hemingway's editor, tells the news agency.
The room features the writer's glasses and drawing pencil. A fisherman's vest and bullfighter's jacket hang in the dresser. A typewriter sits in the center of the room, the report says.
A daiquiri at the Floridita, a mojito at the Bodeguita del Medio and an afternoon at Finca Vigia are also recommended for Hemingway fans arriving in Cuba, the report says.
Reinaldo Lima, … Read the rest