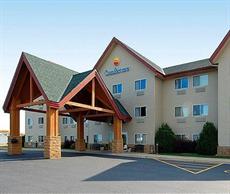 The Comfort Inn Albert Lea recently received a 2011 Gold Hospitality Award from Choice Hotels International.
General Manager Karen Davis said this is the second year in a row the hotel has won the award. She credits staff service and long-time employees for the award.
"The guests have to really like you," Davis said.
She said inspections and guest comments are the main things hotels are scored on for the award. Some of the things guests like are the cleanliness and customer service, according to Davis.
"We have a great breakfast — they like that," Davis said. "They're confident the room is clean."
The staff's goal is to make the rooms look like no one has stayed in them before, and Davis said the housekeeping crew does a good job keeping to that motto.
Because the hotel is at its 10-year anniversary, Davis said they plan to make some updates this … Read the rest