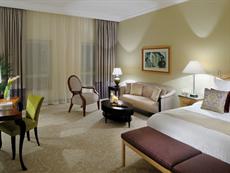 Moevenpick Hotel Doha has been certified for its sustainable operation and management by internationally-recognized Green Globe Certification.
Markus Marti, General Manager of Moevenpick Hotel Doha, said: "Green Globe certification is a feather in our cap after being recently certified for HACCP (Hazard Analysis and Critical Control Point).
"This status only helps us live the vision of our President and CEO Mr. Jean Gabriel Pérès. We are committing today to do the right thing for tomorrow. These awards have been an entire team effort, and I am happy to have been a part of such a dedicated and supportive team."
Guido Bauer, CEO of Green Globe Certification said: "The Moevenpick Hotel Doha operates in one of the busiest corners of the Persian Gulf. The capital of Qatar has invested significantly in travel and tourism as a driver for their economy and as a leading hotel; Mövenpick Hotel Doha plays a dynamic … Read the rest