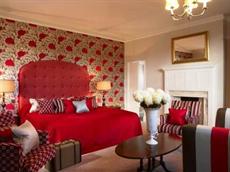 ONE of the county's plushest country hotels has been sold after being marketed for a guide price of £3.5million.
The Greenway Hotel Shurdington has been bought by the Eden Hotel Collection.
The 17-bedroom manor house was previously owned by Von Essen Hotels Ltd, whose holding company went into administration in April.
The sale was negotiated by Christie and Co on behalf of administrators.
Eden Hotel Collection's managing director Mark Chambers said it was exciting times for the hotel, which employees nearly 50 staff.
He said: "Our plan is to bring the profile of The Greenway Hotel Shurdington back to where it deserves to be.
"It has been a difficult six months and I think it is important to give it a fresh approach and a new lease of life.
"This used to be one of the region's most premier hotels and we want to bring it back to that and it will … Read the rest