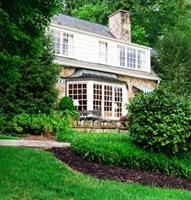 Blackberry Farm, the five-star luxury hideaway near Walland, may lose some of its exclusivity after Travel + Leisure magazine ranked it the top resort in North America in the August issue.
The magazine with an international following released on Thursday its 2011 World's Best Awards survey, which also ranks top hotels, cities, cruises, islands, family travel and spas. Blackberry ranked 12th last year in Travel + Leisure's World's Best survey.
On the magazine's list of top resorts this year, Blackberry Farm was given a score of 94.4 and finished just ahead of Stein Eriksen Lodge in Park City, Utah; San Ysidro Ranch in Santa Barbara, Calif., which ranked first last year; Four Seasons Resort in Jackson Hole, Wyo.; and Stephanie Inn, in Cannon Beach, Ore.
Liz Marsh, spokeswoman for Travel + Leisure, described the annual World's Best Awards as a gauge of the preferences, tastes and habits of … Read the rest