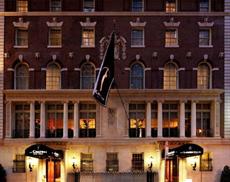 Hotelier Sant Singh Chatwal is partnering with Starwood Hotels & Resorts to help market his most ambitious New York City property, The Chatwal, which opened last year on West 44th Street.
The posh hotel-room rates run upwards of $500 per night-is announcing Tuesday that it is now part of the Starwood Luxury Collection, giving it access to Starwood's vast reservation system. There are more than 75 Luxury Collection hotels in 30 countries, but none had been in New York until The Chatwal.
"Our feeling is that Starwood will make a huge difference in boosting reservations and it will help us get a better room rate," Mr. Chatwal said.
Mr. Chatwal is chairman and chief executive of Hampshire Hotels & Resorts, which owns about half a dozen budget hotels in New York City, as well as properties in Florida, England and India. His son, Vikram Chatwal, runs boutique hotels … Read the rest