Fort Lauderdale beach hotels want to serve visitors on the sand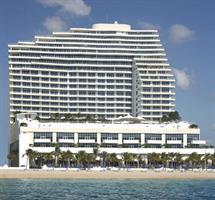 City tourists should be able to get food and drink delivered on the beach, say hotel and restaurant managers who would sell it to them.
Beach hoteliers told commissioners Tuesday that the city's beachfront won't be a truly world-class destination unless their patrons can get beach service — with or without alcohol on the menu.
"European travelers expect to be served on the beach," said Jim Oliver, general manager of the The Ritz Carlton Fort Lauderdale.
Commissioners appeared supportive of allowing the additional beach service, separating it out from a portion of the proposal that would permit the businesses to serve alcohol on the beach and allow other beach-goers to bring their own.
"That to me is a minor piece of the pie here," Mayor Jack Seiler said of the alcohol provision. "If we can enhance the experience for our tourists, that's what I want to look at."
Seiler said the alcohol component may be a non-issue, because it might not be permissible under state law for the restaurants and hotels to serve alcohol off-premise on the beach.
"These licenses to serve alcohol may not transfer across a state road," Seiler said. The hotels and restaurants that would benefit from the change are on the west side of State Road A1A, across the street from the beach.
But those businesses say they are in competition with oceanfront resorts in Miami Beach and Palm Beach where it's not a problem for guests to be served on the sand.
"Even though we don't own the beach, how do we service those customers that don't know we don't own the beach and really don't care?" said Amaury Piedra, general manager of the Westin Beach Resort & Spa.
Piedra is also chairman of the Beach Business Improvement District Advisory Committee that proposed the idea to commissioners.
"We're not looking at this as a money-making proposition," Piedra said. "This is nothing more than an extension of room service … Whether we do it with alcohol or without, it's something that's going to put us on a more even playing field."
Commissioners made no decision, saying they needed additional information and they also want to wait for the commission's District 2 vacancy to be filled in a March runoff election. The District 2 commissioner represents the central beach area.
The proposal is to create zones in front of the A1A hotels and restaurants where they could provide beach service. However, some owners of smaller establishments say they would like to be able to deliver food to wider areas of the beach — not just in a small stretch in front of their places.
"We're not allowed to deliver on the beach, not at all," said David Pearmain, owner of the Ocean View Delight restaurant. "There's a huge area along A1A where there's no hotel or any establishments."
Tags: beach service, Flordia hotels, food and drink on the beach, Fort Lauderdale Hotels, Jack Seiler, The Ritz Carlton Fort Lauderdale